I was eagerly waiting for this group of four, after realising they were nearly all touching 70 years old I thought great Saga Holiday No. 2 easy, put me feet up, might even get a day off, even a lay in  ohh my how I got it all wrong!!!!!!
Meeting them at the airport it was very clear they thought they had booked an 18-30's holiday (are they still doing them????) well a couple of beers at the airport won't do any harm. Back at the house no time for fishing but straight out for a steak and well a few beers!!
Morning came Brian THE fisherman and organiser was up 6-30am great I hung on till 7-30 but they were early risers so breakfast done time to get the truck packed for some serious fishing in the Town. Rods set up time to……… yes well why not we're on holiday beers first!  we'll cast out in a bit!!! So in between sips  I got 4 carp rods out and a couple of cat rods. Soon Brian was into a typical mid double carp which was followed by a few more soon after. Jim Tony and  Elvis had all now caught a carp so we were off and running and with one of the cat rods going off Jim had caught his first cat all being a small one. That night we had Tapas followed but some liquid refreshment…. ouch can they drink not my little coppas they were on 1/2 litres  JB whiskey brandy but all good with plenty of the usual banter.
2 more Town stretch trips resulted in more carp and lager but I thought they were now up for a cat fishing trip up at the "Fig Tree" well Brian certainly was as it had been his dream to come and fish this incredible river and didn't want to leave without experiencing the force of a big Ebro Cat.
So 5 days in I still hadn't had a day off, lay in or even put me feet a little bit up!! but we were off to the Fig Tree  hope it would be kind to us. 4 cat rods out 2 carp and I had to leave them for a trip to get some food and stock up with beer. On my return one off the ropes was dangling in the river could they have caught a cat?????  Looking on Brian's face no need to ask and soon we had it weighed at 84lb well done Brian and yes he loved the fight pure brut force great stuff.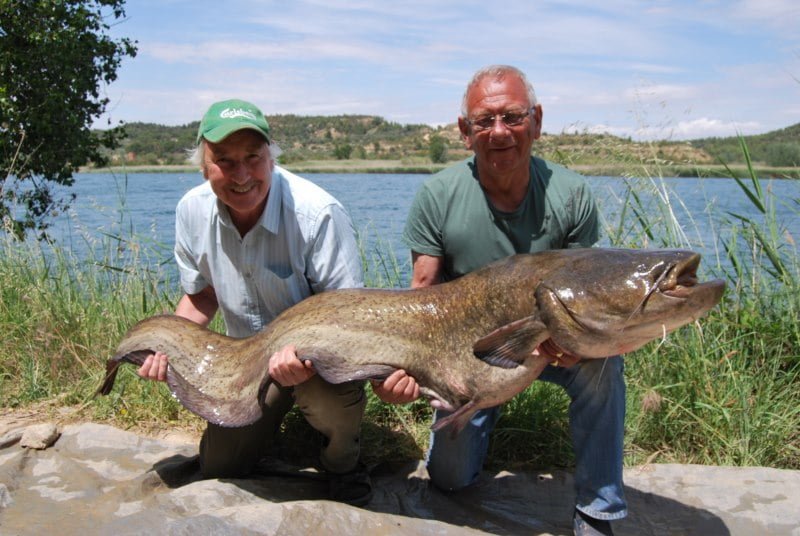 That was all the action as we gave it till 6pm time for them a last go back and have an afternoon nap Yes Happy Days!!
9pm off to the village for some food and you've guest it liquid and time for Brian to talk us through his great catch and for filling his ambition.
After a heavy night and  persuading Jim that the bars will still be here in the morning!! we got some sleep and a return to the Fig Tree the next day. Well some one had robbed my swim (how dare they) so we went a bit further up. Rods out I again went to stock up and yet again on my return a rope was dangling?????  This time it was Jim to have the smug face and  the scales went   round to 80lb so great fishing again.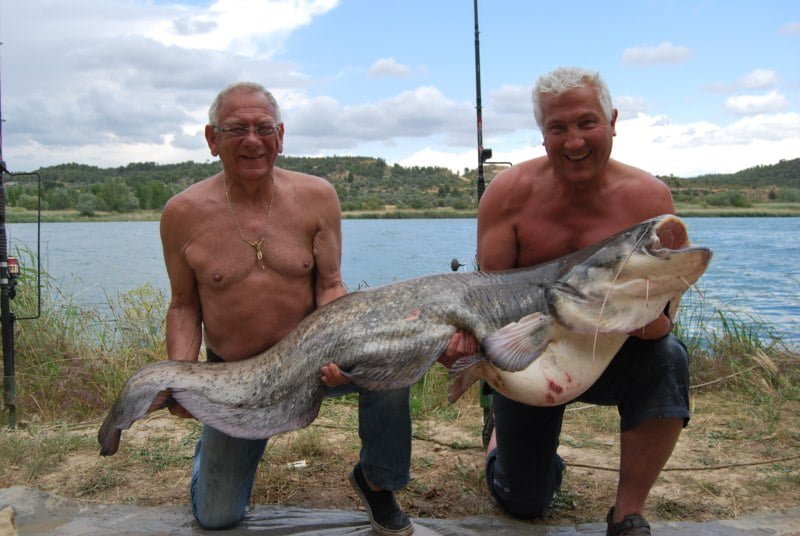 The last 2 days we went back to the Day ticket stretch in the Town, Jim Tony and Elvis all fished out so it was just an easy trip across the" Barca" into the village. Brian stuck at it with some nice carp to 20lbs with the final day producing a lovely carp of 24lb amongst others.
So to sum it up not what I expected but a great week, good fish caught being the hours we fished, where they put the drink I still don't know, and Brian for filling his dream of catching a big Ebro cat and 20lb carp. Thanks guys thanks Brian hope to see you again soon.
until next time Paul
0