Saturday 18th October and it was Matt and Ben to have a go on this incredible River…….and the Fig Tree was on form so a good time to be here.
Matt had had some "special boilies" made up for them to try out so we soon were camped up under the Fig Tree. Matt carp angler Ben umm angler but hopefully after a few fish under his belt he would be ok.  First day and they were off to a flyer cats in the 70's for them both many others but the boilies hadn't had a bite  as yet but no problem they smelt fishy so sure they would work. Day 2 and morning proved a good session as more cats were banked now  into the 80's. The afternoon carried on and it was Ben who found himself attached to something huge!!!! For someone who hasn't done a lot of fishing this was a great sight……long runs taking yards of line off the spool but Ben was getting the hang of this cat fishing and was soon cradling their first Ton at 107lb.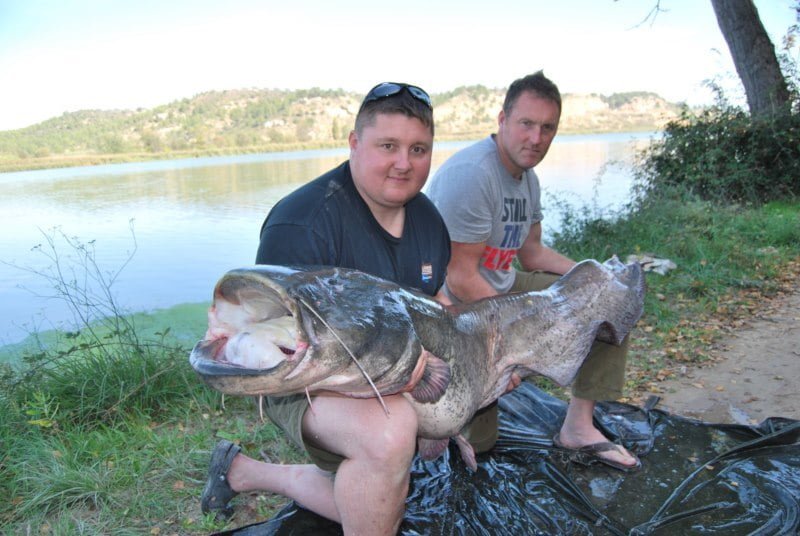 They were recording every catch and came clear that they were getting close already to the 1700lb of cats caught last year in a 3 night session so with that in mind all the rods were regularly re-baited and were given plenty of freebys to munch on.
Apart from Matt and Ben I had my brother Mark over for a week, he usually nicks a few good barbel out of the River Severn but with his light carp rods and 10lb line probably 6 years old he put a single pellet out for carp. No carp but in the week he managed 11 cats up to 44lb fantastic sport on the light tackle..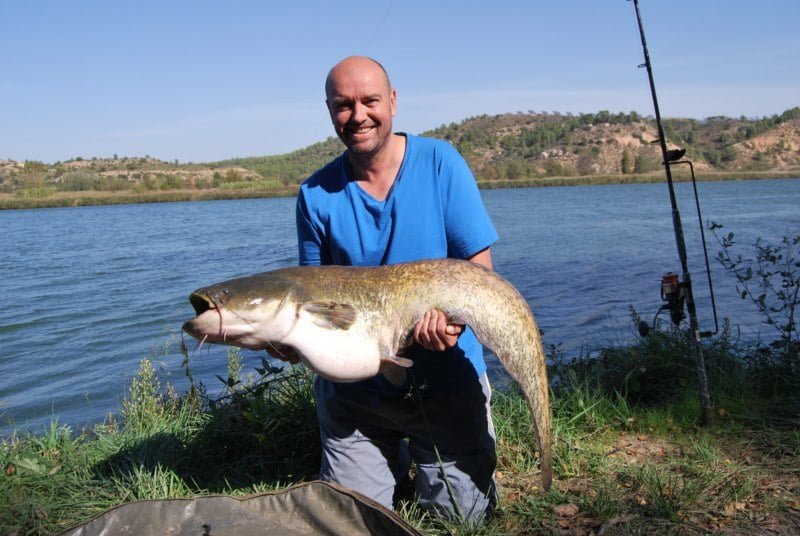 With 3 nights to go and the total at 1400lb it was Matt's turn to feel the force of a big Ebro cat. Same fight very strong and so it should be as Matt landed the very same fish that Ben had 2 days ago….now up by a pound at 108lb.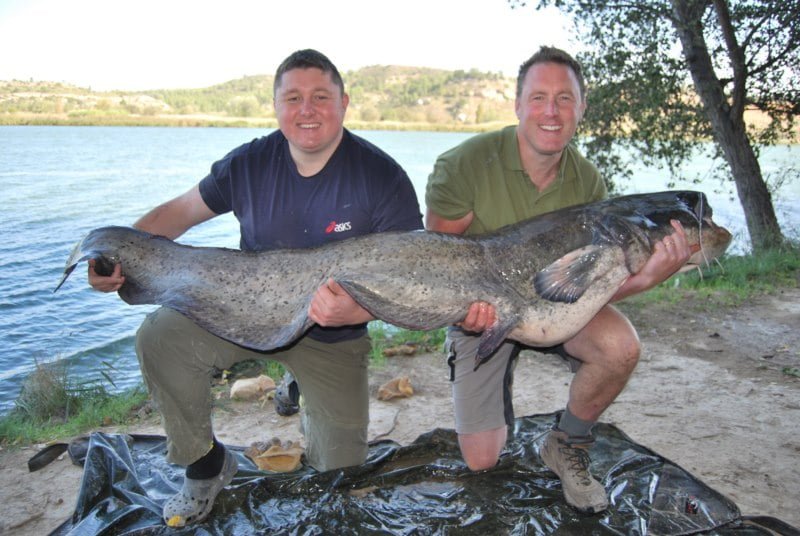 Next morning more good fish banked and they had passed the previous recorded total with over 2000lb of cats, but still 2 nights to go. More feed going in even the boilies were catching fish now, I nicked a 102lb mog last time Matt lets me have a go!!!  more 80's and 90's these now were just being weighed and released with out pics!!
The last morning as I arrived proved to be the icing on the cake, a rope in the water two smug faces and a large dark shape lurking in the water. Turns out Matt generous as always let Ben have a go on a rod……turned out to be the fish of the trip at 138lb… huge very long fish room for it to be 150 some day.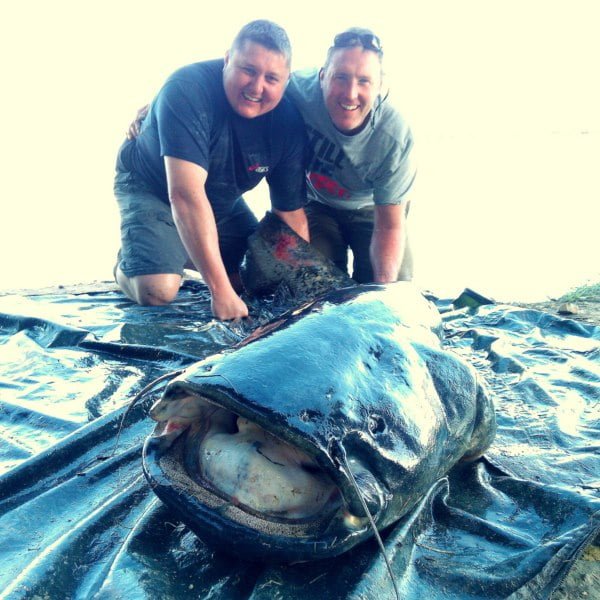 Well what a weeks fishing, regular baiting,  re-casting and hard work produced 51 fish for Matt and Ben total weight 2740lb……a few fish lost as well, add my brothers 11 cats to the weeks total and it was over 3000lb!!!!
You hear of these totals being caught at Caspe and Mequinensa but this is little old Flix the guys saw 1 other angler all week and also did'nt have to put up with rubbish littering the place. Big thumbs up to both of you and also to Flix and the "Fig Tree".  will it ever get beaten????????
Until next time Paul
0