Glutton for punishment my good friends Gareth and Kevin were back for what we think the 8th time (poss 10th). Very late in the year due to various reasons but after keeping check on my blog posts they were so looking forward to fishing the "Fig Tree".  The weather and fishing had been very good all November but Gar and Kev were on their way so" what could possibly go wrong".
Never have I seen so much rain fall in 48hrs prior to their arrival (4 times more in 48hrs then all year put together)!!! They arrived with a break in the weather but every where was like a swamp!!  Quick change of clothes and we were off to see the Fig Tree swim. The dusty track had been turned into a sticky slippery quagmire and with just a metre of bank to stop you going into the river it wasn't a good idea to continue. But the "fig tree" was calling so we continued Gareth driving the hire car wasn't amused as repeatedly the backend of the car slid very close to the river. Rock falls mud slides and even a fallen down telegraph pole didn't stop us from reaching the swim. All looked good but we decided to fish 1 swim up as the fig tree swim had a land slide in it!!! We made it back to base and thought returning in the Land Rover would be a good idea.The 30 year old Landy had no problems with the track and soon we were fishing. No sooner had we all got our rods out and camp set up the heavens opened AGAIN!!!!
Well it got to 10pm when it was too much for me, Gareth and Kevin already had their rods in so we broke down our rods all squeezed into the Landy and back to mine leaving the camp behind! After breakfast and with it still raining we went back to collect the bivies etc… the track was even worse with the over night rain but we soon had everything in the Land Rover and were back at mine. Poor Gareth and Kevin they had been waiting 18 months to return and what with seeing so many fish caught so far this year from my blog posts was the weather about to ruin their trip. Absolutely not, no sooner were we back at mine they were set up in the garden swims sheltering from the rain under the bamboo!! Night came they had switched their end rigs for cat fishing and with a good spread of pellets out they sat back under the ovals waiting for the first bite. 8pm and Kevin is in, excellent scrap on the carp rods just what Kevin had been saying he wanted more then anything this year and soon he was rewarded with a new PB at 96lb.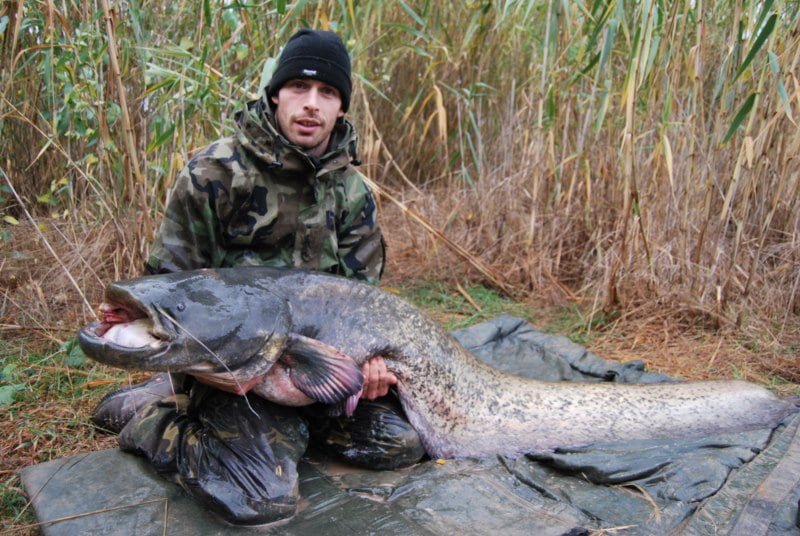 Well great we were off and running and with the rain stopping as well maybe we could get on with some unbroken fishing!!
Morning came and Kevin had bagged some small carp to 18lb but I had had a text message in the night to say the dam would be opened to let some of the rain water out!!  8am whilst we were taking photo's of Kevin's cat the river started to flow!! and flow it did at it's highest it reached the top of the steps which is about 15 feet of extra water!! Could things get any worse?? all day the river flowed with no fishing but we were expecting the dam to shut at 4pm so fingers crossed. 4pm came and the water level dropped quickly and after a quick rake around they set up camp and were back fishing. Always fishes well after a flush through I said but with their luck I'm not sure they believed me. Rods and lots of pellets in place it wasn't long before it was one of Gareth's alarms to sound. Again very strong fish putting his carp rod to the test but it wasn't too long before a big fish showed in front of us. On the scales it went 114lb fantastic as with them both with a biggie in the bag we could all relax.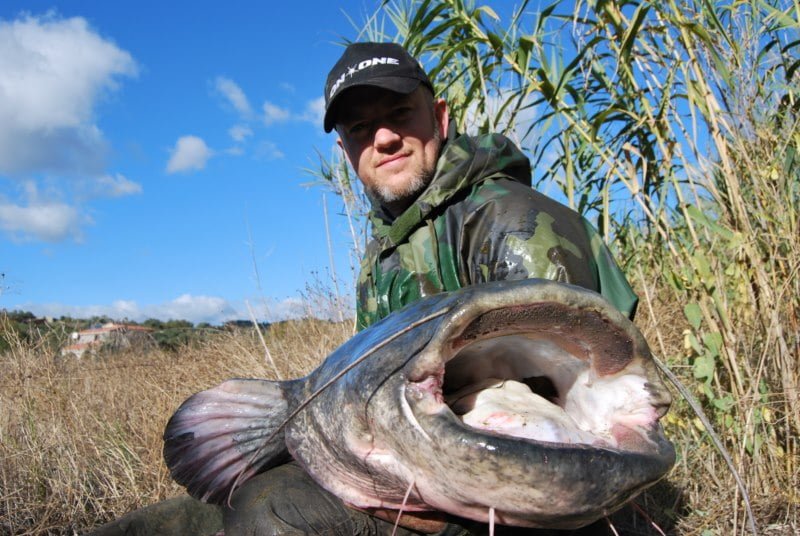 Rods back out and an hour past and Gareth is in again, another strong fish resulting in a 83lb, the night went well with 2 good fish roped up they had 2 more cats around the 40lb mark and some good carp action.
The day passed with no rain but sunshine at last and they both landed a few carp to low 20's but the cats were showing over the baited area so could the evening bring more cat action. Action yes but the cats just weren't there instead they had constant carp action all night!! and at about midnight Kevin gave me a call to say he had something of interest in the net??  The last 2 years we have been lucky to catch a very big Mirror carp. It ranges in weight from 38-44lb and of course I had to give it a name "The Resident". Have you got him??? I asked down the walkie, might have? has it got a mark on it's back?? can't see one, Is it a huge mirror carp??  "Yes" came the answer. Quickly I got myself down to the river as I had been telling the lads the last 3 days I wanted that fish on the photo boards again. On opening the landing net there lay a huge Mirror, rare for the Ebro, the same scale pattern but no mark on it's back. The scales showed 35lb 10oz and a different big Mirror but a fantastic fish and effort from Kevin.
The lads went on to land 20 carp that night with "Little Resident" being the best. the next day the lads had to leave for Barcelona by 3pm but still time for Kevin to nick another small carp.
What an eventful trip if it wasn't for their determination they could have gone home with nothing but wet clothes, but they both fished till they dropped a really great effort in very testing conditions.
Thank you boys for a fantastic trip and look forward to seeing you again next June, what could possibly go wrong!!!!!!!!!!
1