Well after a great trip back in September James couldn't wait to get back for an "extreme carping trip" With the car packed for all eventualities and an evening to kill 2 rods out down the garden was in order. Pellet spooned out, 2 cat rods baited with double 22mm pellets sit back and enjoy the mild evening.
Lots of ideas were thrown into the pot as to how to catch an Ebro "50" up at Chipirana or Caspe. These are two famous villages which have a good reputation of producing big fish, all be it 2hrs plus drive upstream. That was for tomorrow because whilst dreaming of what might happen James's rod rips off!  Great start to our Extreme carping James is into a big cat. Good scrap ending in a know fish to me, "Lumpy" is still alive!!!! we first caught this fish 3 years ago with an ugly ulser on the side of it's head but it has healed and obviously still feeding.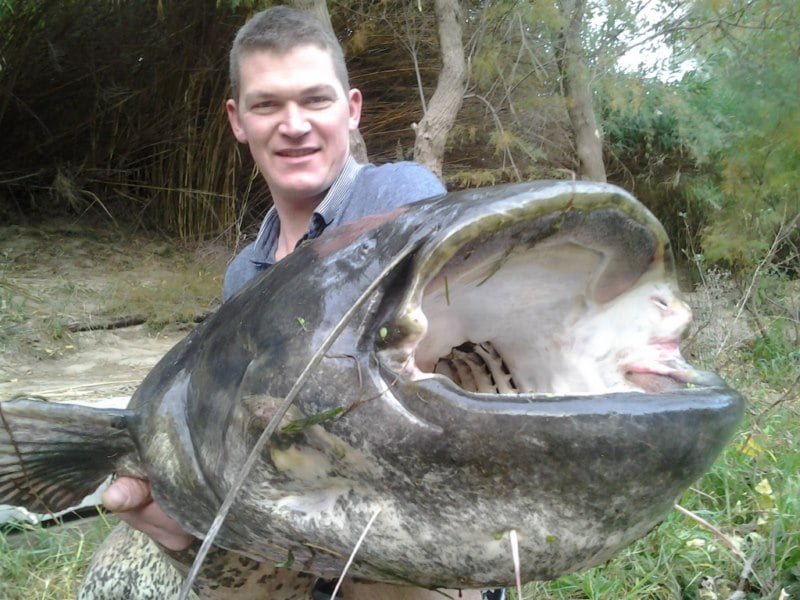 And here is "Lumpy" holding a catfish!! (had to get that one in!).
With a bonus cat in the bag we were confident tomorrow would be good too us. First we stopped off at Mequinenza a few fishing but we headed on up to Caspe. I liked the look of a swim we had fished in Feb but with a strong wind blowing straight into our faces we carried on up.
Licences paid for in Caspe we were off to Chipirana home to cats to mid 200's and 60lb plus carp!!!  Well I've concentrated nearly all my fishing in Flix and Riba Roja and although at times some idiots leave bags of rubbish behind generally it's clean and tidy but what we meet was what I can only describe as an "Open Landfill Site". Yes they have big fish and vast numbers of anglers each year but there was piles no mountains! of bin bags beer cans littered every where with not a single bin or skip to be seen. The River was low normal this time of year but the strong wind was causing metre high waves totally unfishable so we made our way back towards Fayon.
Great swim and known to hold big fish so with the day nearly finished we quickly set up a marker baited up and had our rods over the top.
The night passed with the odd fish topping, morning came and a few fish showed on the far bank so we changed tactics and using the dingy sent our baits to the far bank all 250 metres!!!!
Nothing happened so I had an hour out in the dingy looking for signs of fish with the fish finder. A couple of nice fish in the shallows but that was it the fish just were not here. So we upped sticks and headed for Riba Roja!!! which meant we had done a round trip of over 200 miles to get to a spot just 15 mins from Flix.
We have fished this spot many times this year, lots of fish caught including the biggest carp caught so far this year at 42lb 12oz so  surely we would catch here! and still the chance of a big carp. Well we huffed and puffed but it is snaggy and in the 2 nights we did here we managed 12 runs landing 6 fish but all were small doubles. Not what we had in mind but that is fishing, lots of very big carp showing but none made it to the mat. Still James has seen all that the Ebro has to offer and we did have such a laugh and great food, I'm so glad I don't have to fish in a rubbish tip back here in Flix and of course there is always another day.
I'm nearly at the end of a fantastic years fishing and will let you know who has won this years competition very soon!!
0