James and Stuart first time here and both seasoned carp anglers what would they make of it!!!!
Short first trip and not sure what to expect but they had heard of a place called  "Mequinenza" which they wanted to have a look at.
With Just 4 days fishing I sort of convinced them to have a look at poor old little Flix which nobody seems to of heard of Ahhh.
Rods out 4 cat rods and 2 for the carp set up to try and handle a cat if they took the boilie . First day was good with a little 35lb cat getting Stu off the mark followed by a 58 great. Night fell and the carp rod rattled off and James is in. Ohh dear James having caught many big carp back home was about to find out what little Old Flix was all about!!!   10 minutes past and it's still pulling but James is starting to get the hang of it!!!!!
Another 10 minutes and it's gloved and on the bank great first fish and new PB for James at 74lb.
The night went with 2 more fish and a few good old Essex Jokes!!!!!
Morning came with a cup of tea and lots of Essex jokes and banter good as their first trip was going in the right direction.
Morning proved good with some good fish to both of them 58, 83, 60's great fishing and the night to come.
Night falls with a 70 already roped up time for a bit of shut eye. 1am and with us all snoozing and one of the broom sticks just flew, James first up with Stu cuddling his blanky  so James is in.
Well from the moment he got the rod out of the rest we knew this was a good fish and exactly what Mequinenza is all about, Ohh forgot were in little old Flix!!!!!!!!!!!!!!  15minutes and starting to run out of line!!!  but with a cat rod and not a carp James felt a bit more confident on putting on a bit of pressure. Another 10 minutes and he had gained over a 100 yards of line back twice only for it to be taken back again!!!
Bit by bit and after a truly great fight he had it firmly stuck on the bottom in front of us, it just didn't want to show itself nor did Stu who was still cuddling his blanky!!
With me giving a bit of instruction and James hanging on he managed to lift her up as we saw it for the first time we both said a few choice words which was great because sleepy Stu came to our aid.
Fish roped and the hook just fell out!!! now we had to haul her up the bank, no props with 3 strapping lads (Essex Lads!!) well I'll write it was easy and like clock work but you'll get the idea we flapped a bit!!
Big Big fish totally empty but went 135lb on the scales could well have gone 150 160 had it been feeding but seeing that us Brits weight our fish and not measure 135 it was.
So morning came fish photographed bit of banter 3 happy chaps and a couple of days to go.
Steady fishing with more 50's a 84 for Stu 60 for James when the carp rod was off again. Well I haven't got time to write what happened but we have 2 lots of video which I hope I can get uploaded soon of the fight!!  Abs mad totally unstoppable and this time very nearly spooled James out.
But with "James the Sock" on the rod no probs, over half an hour and again fish close to the bank but hugging the bottom like Stu and his blanky!! time to put some pressure on a very tired James started to lift the fish when……………………….  dam and blast!!!! (posh Essex) hook pulled, 2 lads who had come up to see what was happening said oowww softly and crept away as the 3 of us just looked sat down as if we were just shot!!! We have all felt the pain when that happens! but  carp rods can't really handle the" big uns" and the cats were liking the pineapple boilies!!
We soon put that to the back of our minds (no we didn't) and more good fish to 84 lb landed and a cracking carp of 31lb 2oz their first trip was coming to an end.
Last night saw a carp of 19lb landed but time to wrap it up here and 2 small cats back at the garden finished off a great trip.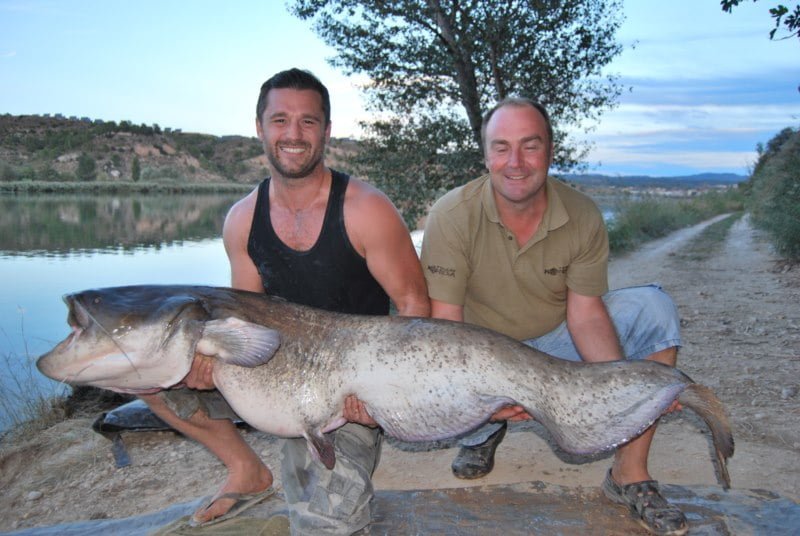 Well guys superb fishing, great fun just great PB's broken, tactics understood, location convinced and over 700lb of fish banked we all ticked some boxes this week.
Sure I'll see you again even if its a swift arf in the" Sugar Hut".
Thank you for a blinder and you are now winning my competition James with your 135lb cat.  Happy Days
0