I was really looking forward to seeing Tony Mick and Nick back again.  Always plenty of laughs and they always seem to winkle out a few good fish.
Well it couldn't of got off to a better start as Mick with Tony hanging on to him hooked into a 102lb cat within 30 mins of turning up!!!!
Weather first day was lovely fishing for the carp up at Riba Roja. Not easy fishing for them but lots of runs converting into a few carp for Tony and Mick when he hooked into something special Again!!!!  Great fight resulting in a truly huge Common 42lb 12oz.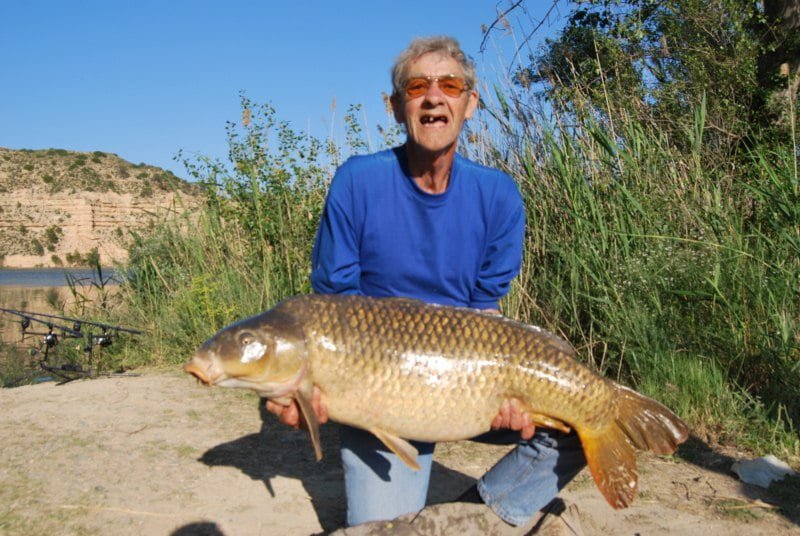 With the weather not knowing what to do it either rained or was sunny windy the whole lot they caught some great fish, nights proved good for the cats untill the dam was lowered again due to the heavy rain fall. Nick managing a 81lb and Tony 85lb, days were up and down but with an estimated 60 odd runs they landed 34 fish including 5 new PB's.
This one making Nick very happy so close to the magic 30 but a fabulous way to finish.
One of my best ever weeks here, shame it had to come to an end but a chance for my ribs to recover from all the laughing.
Thank you Tony (he has an Airing cupboard you know) Nick (got though 5 pens taking down notes) and my favorite!! Mick (nearly had a rat in his hat!)  what a guy problem is he is now winning my 10th aniversary comp so he's probably coming back!!!!!!!!
Hope to see you all back soon  Paul.
0