After a good start to the season and  a short Easter break it was Russ and Mike in next,  returning for a 9th time!! Now way back in 2005 Mike caught 2 cracking 92lb cats (like to know what they weigh now) and has since caught our Resident Mirror at 38lb but with lots of great trips the big fish have  always eluded Russ. Not that we have ever reminded him that size does matter!! just being here has always been their reason for coming back (It is very much appreciated).
So tiddler bashing for Russ, me and Mike were after the Ebros's  wackers arriving late first night we put 2 rods out for a couple of hours and they got off the mark, well done Russ a 8lb cat, I thought it was a new PB for Russ (only joking) but he has had a few bigger. Next morning the "Fig Tree" was calling so truck quickly loaded and off we went, I quickly showed the lads the tactics and soon we had 4 out for cats and 2 carp rods. Cat rod was off first with another tiddler followed by a 37lb cat for Russ and this WAS a new PB well done. Next in was Mike with a 52lb moggie but the weather was changing and before" Witching Hour" we made a dash for it as soon yet another bad storm passed over. Next morning with the forecast good for 2 days we went prepared for an over nighter. Rods quickly out same as before and it wasn't long before a carp rod burst into life. Russ is in and we soon realised it wasn't a carp. Line ripped off the spool 100 150 yards great fun could Russ be into a real Ebro cat. Cracking fight Russ loving every minute and there were quite a few of them but he soon had it ready for gloving. Scales showed 71lb and after 9 years Russ had done it a proper one!!!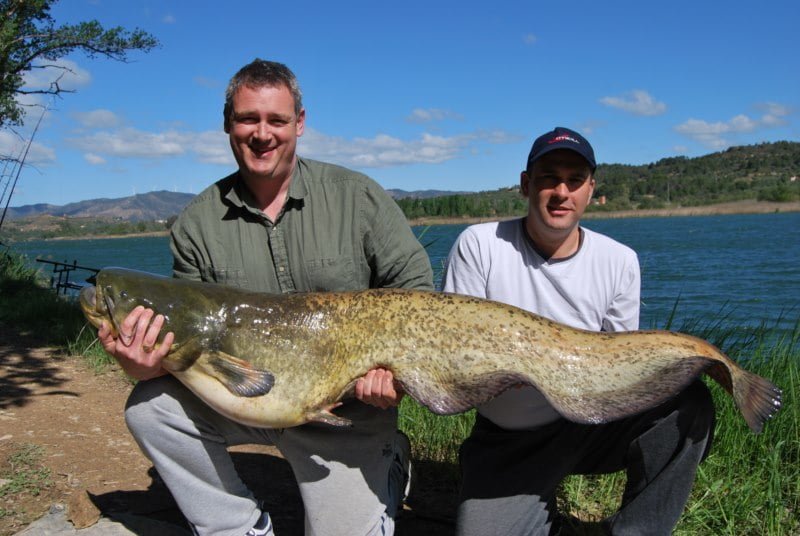 One very happy Russ and it was Mike who quickly got in on the action, cat rod this time another great scrap resulting in a cracking 80lb moggie Mikes biggest since 2005!!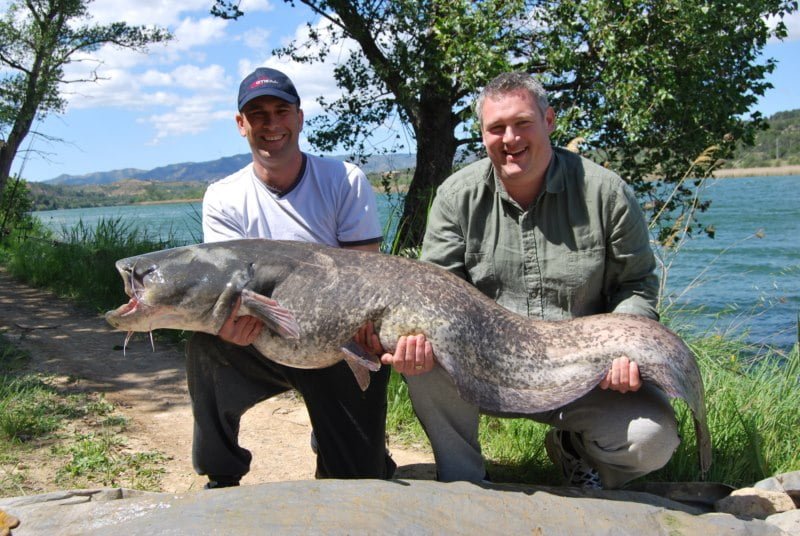 With us all settled for the night I went off to get the kebabs, I returned to a very smug looking Russ who had text to say the sack was full, egger to see what it was I lifted the sack onto the mat. Ouch could this be PB number 3 for Russ as it was very heavy. Well not just a PB for Russ but a new PB for On The Ebro  an enormous common which took the scales round to 47lb 13oz stunning fish.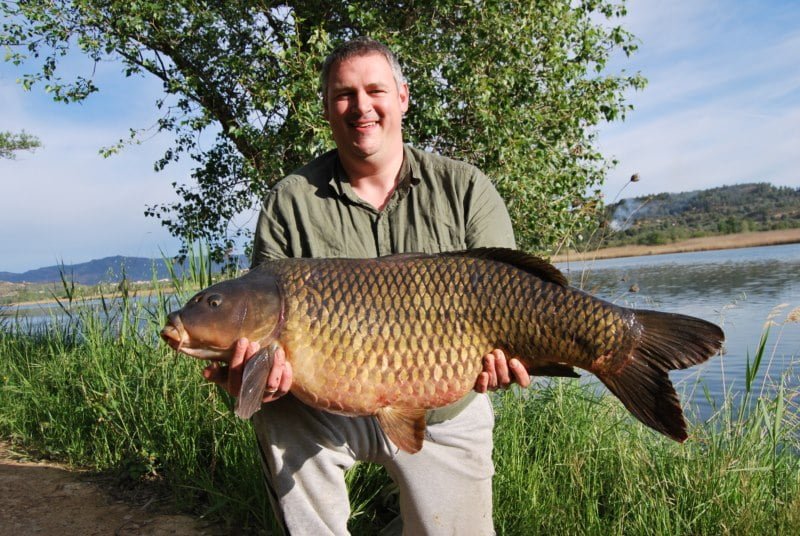 We tucked into kebabs and the rods were quiet for a while when Russ is in again, same rod so I get the landing net ready as Russ has the fish plodding around under the rod tip. Well a couple of minutes went by when it realised it was hooked and off it went and went and went ohh dear Russ is into a cat again on the carp rods. 10 mins passed then 20 just a heavy weight taking and giving line but Russ was gaining and shortly after we saw some colour as it surfaced quite a way out. Another huge fish for Russ quite amazing session, I ditched the landing net! and  hauled it up "Stu's Step" time to see what it weighed, 142lb caught on a 30lb hook link size 4 wide gape X hook and a couple of Pineapple boilies this was now one of those "red letter days". 9 years of waiting and truly rewarded with some huge fish.
There was still time for Mike to land a 56lb cat but morning came Russ unable to sleep savouring every minute. We took pics of the fish before releasing them into the depths of this incredible river. The day passed with a 25lb carp falling to Mike but as always the good trips go so quickly and it was time to pack up.
Well it was definitely my best start to a season, fishing at it's very best, laughs, food and a few beers well done to you both look forward to round 10!!
Until next time Paul
0