Time for Paddy, Adam and Stuart to arrive, Paddy and Adam have been before but what would Gareth make of it. Fig Tree to start then so truck loaded up off we go, with my super organisation it wouldn't be long before we would be fishing!!!!! Hello Gareth, oval set up first in the middle of the track!!, bits over here lots over there  ohh dear what a mess, but it didn't take long to sort him out and soon we had a neat row of rods and ovals with the picnic table in the middle….just as I like it!!!!.  Eagar Gareth (can't knock eager) was first on the rods and it wasn't long before he was into a cat good scrap resulting in a 50 plus moggie and a very happy Gareth new PB.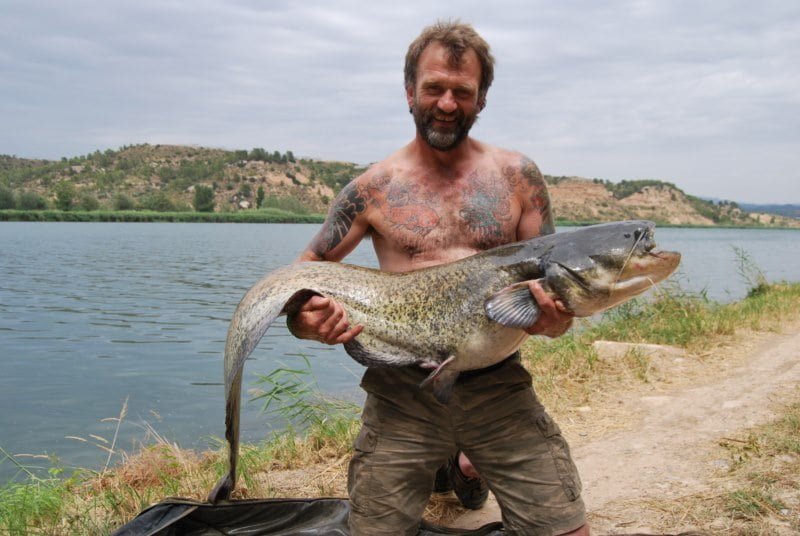 With Gareth knocking back the wine, Paddy just chilling and Adam waiting for the rods to go all was good in camp. Fishing was steady with small cats and good carp when the next day and Adam back on the rods has a run on a carp rod. Good plodding fight could it be a good carp or a moggie when it surfaced all was clear a good carp!! Always after knowing what you have hooked you get the nervous moments but we soon had it landed and what a cracking carp. Previously uncaught in scale perfect condition and 34lb well done Adam new PB.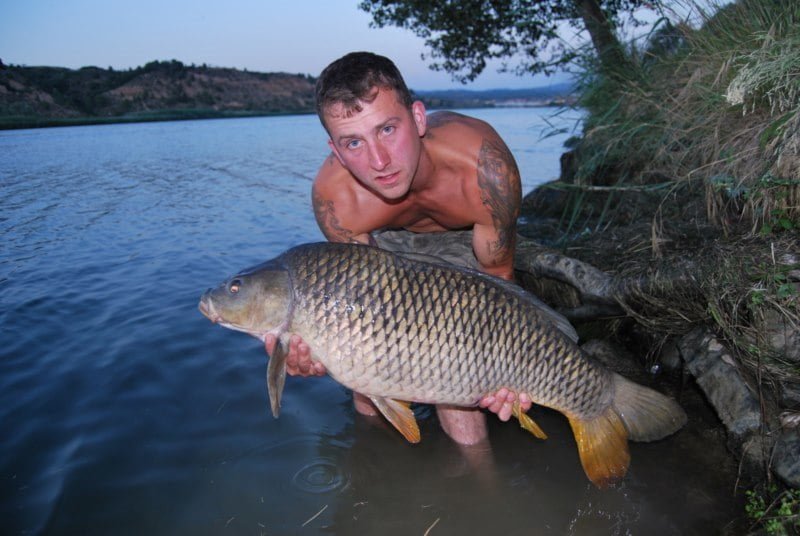 The next few days and nights passed with cats to 70lb but we came off the fig tree mainly because Gareth wanted a 1kg "T Bone" on the BBQ wow he can eat, well  nearly 3kg of T Bones it was then and a fine feast was had by all. Next morning the plan was to fish the garden, breakfast done went down to have a look only to find a raging torrent!!!! Ohh dear weed clearing day so we went up to Mequinensa to show the lads what they're not missing!! That night BBQ number 2 yes Gareth Paddy and Adam were up for another steak and fine trimmings. So now you have to picture this. Gareth jumping up and down wanting to go fishing, Paddy up for it and Adam listening to me and getting some sleep. The  river was up passed it's banks all day so very slippy muddy dangerous and pitch black….We'll be fine I can still hear ok but your on your own guys! Half hour passes and I hear voices below, I go down to see whats up? Paddy is leaking blood from a head wound ouch Gareth is leaking blood from cut arm  but worst still one of my bank sticks is bent!!!! Turns out that Gilly was right and the bank was slippy muddy and dangerous lol so wounds patched up couple of beers and wait for morning where we could see what we were doing.
The next couple of days proved great fishing at the garden, Paddy managed a new PB 70lb moggie
Adam some nice cats topped with a new pb 78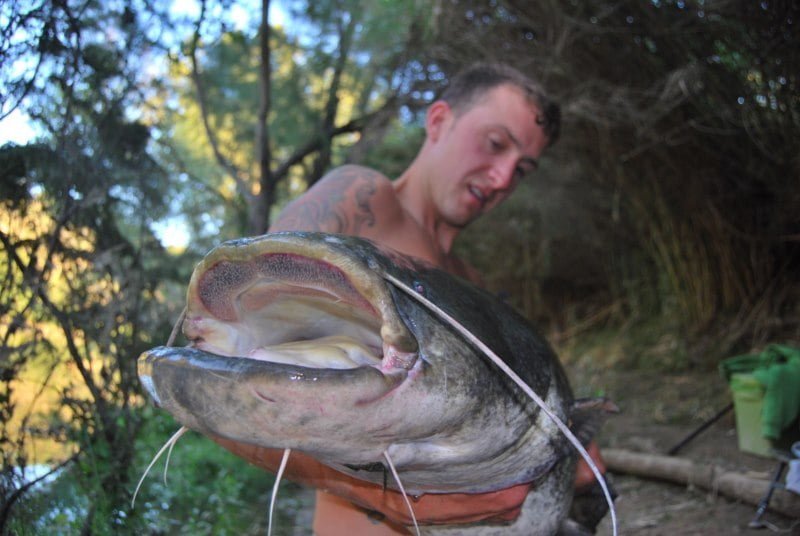 Gareth had a great final two days catching the Resident at 37lb 12oz
And " Lumpy" at 88lb
Excellent weeks fishing lots of fun on the way, lots of food and some cracking fish caught, thanks lads great company come back for some more….
Until next time Paul
0