Brad and Alex, first people in this year looking to catch one of the Ebro's famous big cats. Alex done all the arranging as it was a surprize Christmas present for Brad who like many dreamt of " having a go" on this famous river.
Meeting them at the airport an excited Brad came running out from the sliding doors lets go!!! whilst Alex carrying all the bags came through  wow!!  what an "Old Sort" I thought  Happy Christmas to me!!  (easy Brad only joking…..no i'm not). Journey back to Flix was full of expectation and talk of tactics great as the river was flowing and it looked like we would have to work hard to nick a few. By early afternoon Brad had two rods out squeezed under the bamboo, fishing just 2 rod lengths out awesome and a happy Brad.
First fish came quickly to the tune of a lovely 24lb 12oz common, great start and Brad is off the mark and got him sat in his chair instead of perched on the edge (we've all done it!).  1 more 20 came before dark so 2 in the bag first day great. Brad was up with the birds day 2 and radioed in that another 20 was in the sack. By mid day a couple more had come to the simple tactics just double Pineapple with Butyric acid boilies. With some cracking carp coming to the boilie rod the pellet rod stayed quiet, but the water was cold so any Cats that were around needed some bait to get them interested so we gave them some pellets, plenty in fact so really just had to wait and be "patient" Brad!!!  5 o'clock and Brad has smoked all his cigs so I'm sent off to get some more, on my return I radioed down to them anything happening. Alex replied CAT!!!!!!!! in fact I could here Brad screaming from the house!! so I made my way down to the river expecting to see Brad and Alex smiling with a cat roped up,   Ohh dear no,  Brad was hanging on for dear life still in full fight mode, too something that could just make his Christmas. Before he even wetted a line I tried to explain the shear power of a big "Moggie" but you can not beat reality and poor Brad had no idea this is what it's like!!  The river was flowing so that didn't help as before I arrived it had already visited the far bank now it was down the margin so had to get it out. Steady pressure still wasn't enough this really was an angry cat, quite incredible under- the- rod- tip fight  but eventually it tired and we had it. I am  sure Brad would tell you that it was one of those moments in fishing he will never forget, 15 mins of hell ending in the perfect Christmas present.
Here he is Brad one happy man, 120lb Ebro cracker and the "lovely Old Sort" Alex. After all the excitement and Brad being worn out! we called it an early day with a BBQ and a few beers and Coke Colas!.
Day 3 passed with a bit of action another couple of  common's  but it was slow could it be a sign of a weather front which was expected was on it's way. 5am the following morning you could hear the rain and it didn't stop all day we did get the rods out but 2 lost fish added to the miserable day, but we still had most of day 5. Up with the birds again Brad radioed in that he had another upper 20 in the sack and shortly after he had another.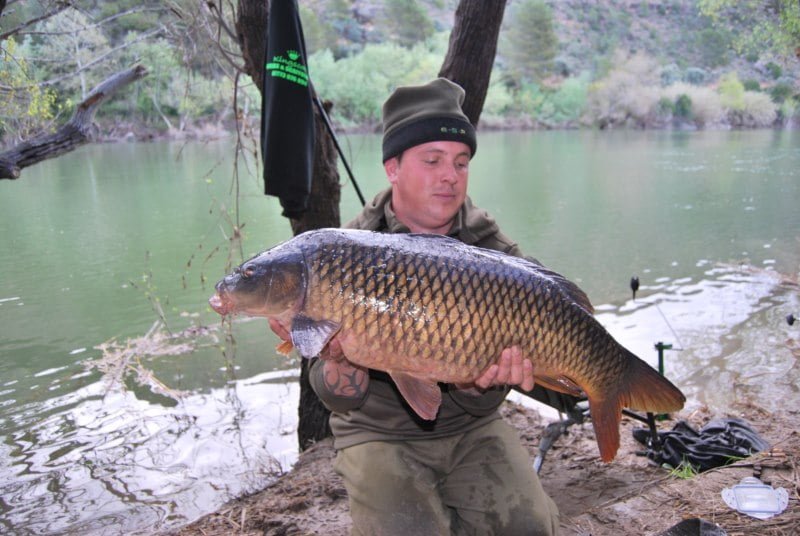 This 24lb 12oz common was just 1 of 4 mid 20's caught on the last day, definitely making up for yesterday, and look who got in on the action with her first ever carp!!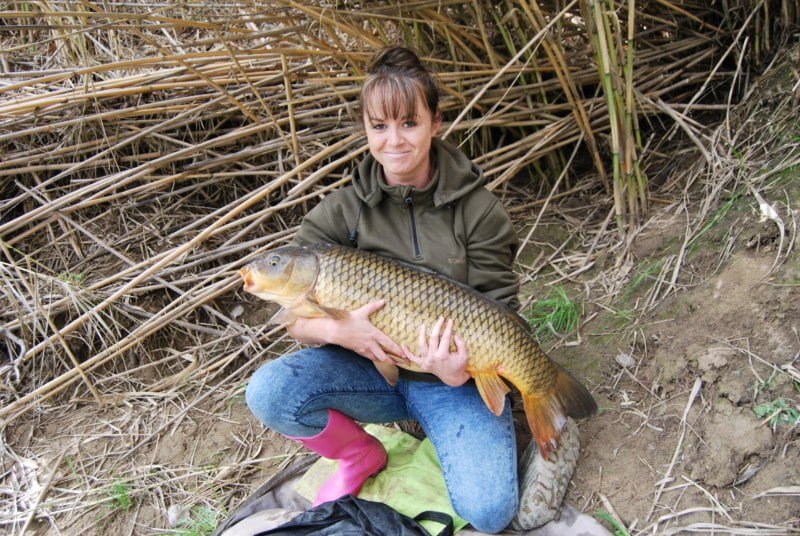 24lb 13oz very good for your first, but time had crept by and it was time to wrap it up, totals 11 carp of which 7 were big 20's and of course the cracking 120lb cat. Great few days fishing lots of banter as always probably got Brad hooked with this  incredible river and a pair of Pink Hunters!! only a Sort would wear them.
Until next time  Paul
0