Last year proved a blank trip for David and Frank when a trip to The Ebro in Amposta didn't go to plan.
After being recommended David thought he would give me a try this year, so with his fishing buddy on tow aka Frank what would happen this time????
Back to the 24hr stretch camp up, rods set and I asked the normal questions like what would you like to achieve this week? Frank catch a few fish David "100lb cat" were the answers. David was first on the rods, 15 minutes had passed when wollop rod 3 away. David picks it up but wasn't quite expecting what happened next!!!!!! The fish just took off 50 yrds 100 yrds 150yrds now i'm looking worried because at 220 we're out of line!!!
Without taking the rod from David (no chance of that any way) we needed to stop the run. Drag as tight as we dare and David giving it the full treatment he turned it and just in time as the spool was empty! 200 yrds of line and a few more lunges we had her on the bank.
101lb and a fish that had never seen the bank before truly mad fight and David had hit the "Ton" in 15 minutes!!!!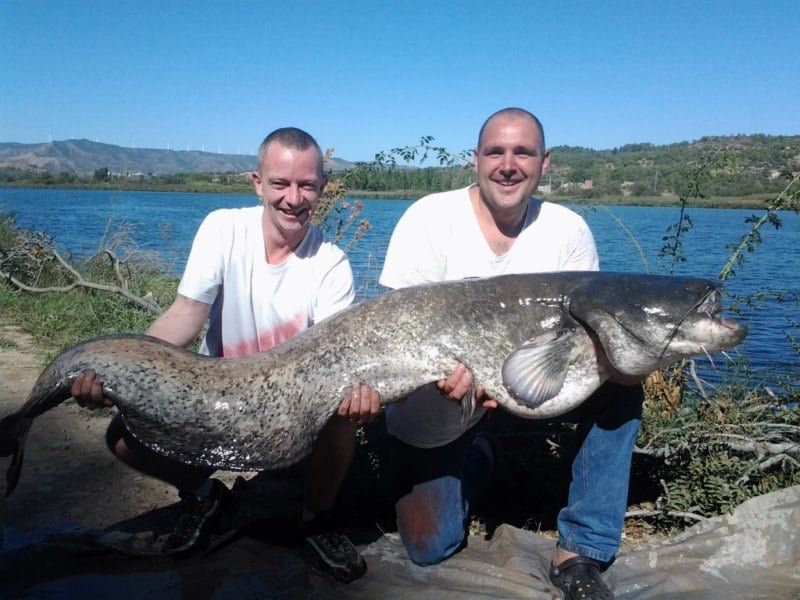 It didn't stop there Frank's first was a 50, David had others of 67, 40's Frank had a 76 and a 67 when I went off to get the pizzas, on my return Frank is very carefully cradling a huge carp in the landing net. We think this is a free trip back next year were the shouts, on the scales she went 38lb 6oz not the best this year but a stunning carp and smashed Franks 17lb PB!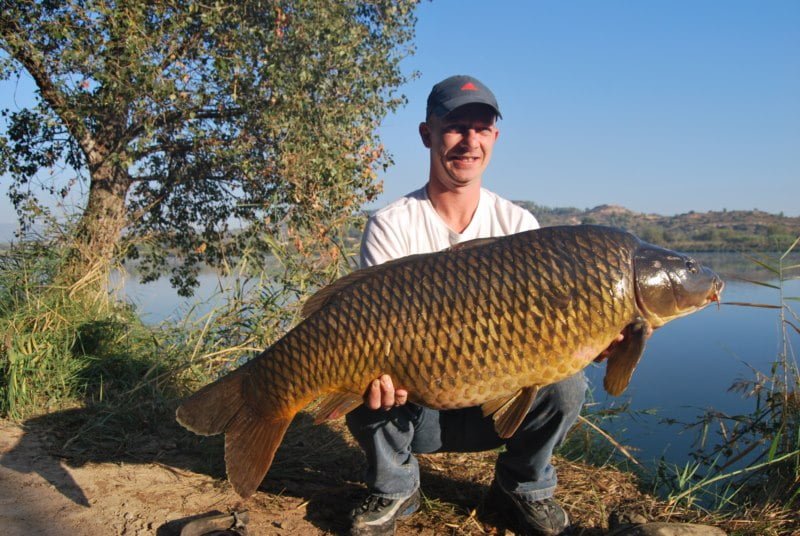 Great first day and 2 happy chaps what would day 2 bring? Answer nothing abs nothing but the night was the first cold one of the season and Autumn is on it's way. Evening came and Franks away and lands a 48 quickly after David also lands a 48 very welcome as 12 hrs had passed with nothing! Night comes and at 1am David is in another mad fight resulting in an 83lb cat, great rods back out and 9 am Frank is into a monster.
Fantastic scrap and Frank lands a 90 and new PB and a great finish to their session fishing for the cats.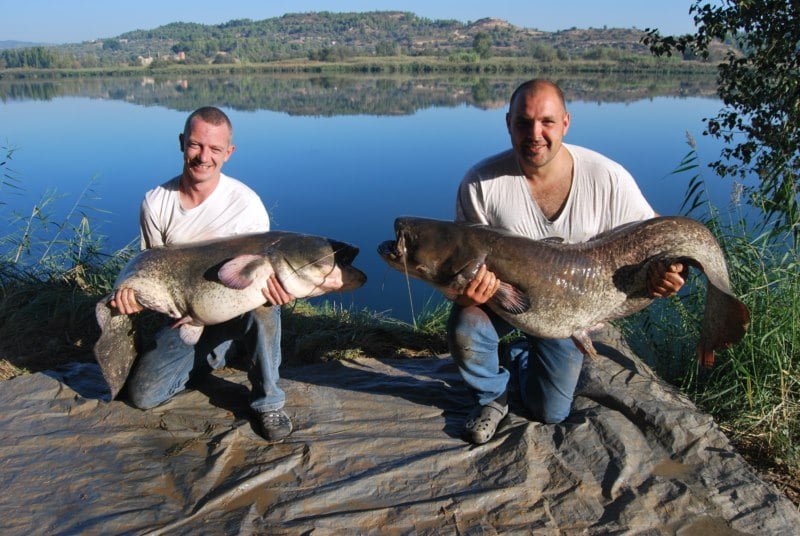 With their trip already complete we were off to have a go at the carp up at Riba Roja. Not easy but if you hit the right spot there are some very big carp to be had here.
Camp set rods on the" spots" Stew cooked and demolished! time to sit back and enjoy the flat calm and me point out where the North Star is (yes I'm still doing that!!). Not sure what time it was but Franks rod is screaming will he hit it, any time Frank, go on! Frank……. David……… useless the pair of them were sleeping like babies, I played it, put the rod down to find a landing net, replayed it unhooked it and still nothing from them.
I made the point of waking up Frank to show him what he had caught! From then on Franks rods didn't stop carp after carp all stunning fish but all about 16-19lb.
Morning came David started to get a few and loose a few Frank carried on but no monsters made the bank. We did 1 more night resulting in a 26 for me a few more to both David and Frank but the trip had to come to an end.
In 4 nights fishing David and Frank caught over 1025lb of fish broke countless PB's ate and drank everything (Frank) another  fabulous trip here On The Ebro well done to you both very well deserved.
With the end of the season closing in what will happen next??????
Keep you posted.
0