What with the weather not great wet and cold it was Andy, Chris, Terry who were to have a go for the second time this year with a new face in Simon. So camp set up lets see what happens. Andy lost a very big fish here back in May but the snag has been removed so should be ok in landing some big uns this time. Well Andy duly did with a fish weighing exactly 100lb what a start and Chris followed up with a big 80 and new PB.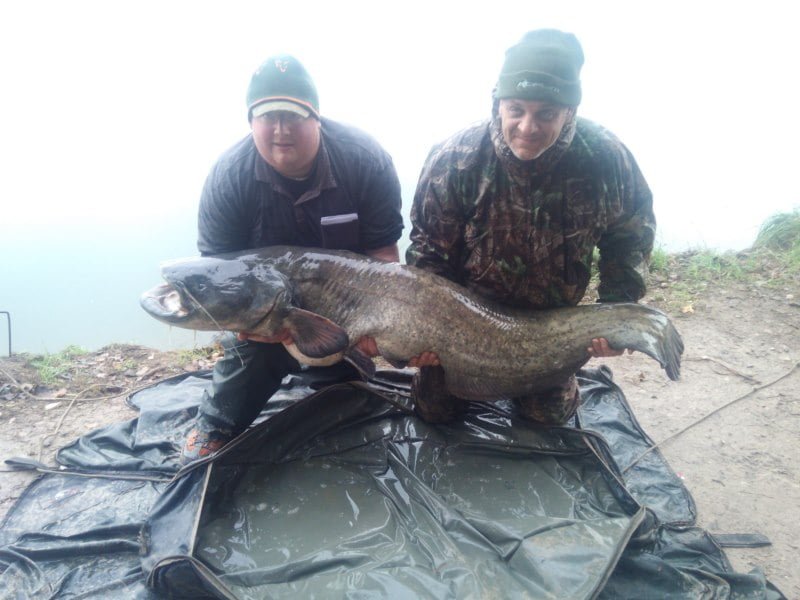 Conditions wet but they managed a few smaller fish when Simon hooked into a big one. Biggest fish before this trip was a upper double carp so watching him play this one was priceless, didn't help getting stick from his so called friends!!! but at 104lb the Figgy was still producing.
Terry (he's the one on the left) is a non fisherman he just comes for the crack!!!! and well prepared as his luggage turned into full camping kit including luxury sleeping bag, over wrap blow up mattress (shaped like a sheep)!!!! and binoculars for spotting birds!!!!!  Yes we kept Terry down the far end!!!!  Pizzas and Kebabs keeping the lads fed well biscuits, more kebabs, cheese on toast, bacon rolls, more crisps, more tea, more coffee more lots of food they were ok!!!!
Their trip was for 3 nights which soon came round, Andy on strike when a spod rod was away. Andy is a big lad…. used to playing barbel on a light rod and centre pin so when a fish does this to him he knew he had a good fish on. So much line could he have hooked the biggest fish of the season!! The fished stayed low and because it was on a spod rod with carp rig!! He couldn't put too much more pressure on it but slowly he got it back to in front of us only for a banana to surface!!! Wow  many years have passed with out seeing a true Manderin but we have now. What a fight as well, what a finish to their trip and the season.
Scales pulled up short for it to be a Ton but really didn't matter 94lb was big enough for this incredible creature.
Well that's that, we went out and had a great steak meal and a couple of beers to celebrate, the lads finished my best ever season in style, I'm now going to have a rest before I try and write up all that's happened this year!!!
The Fig Tree has done the business for most this year lots of big cats, some huge carp kept us cool in the summer and freezing cold in the winter! but with the first full year of fishing here it has produced and done us proud.
Looking forward to next year!!!!!
Until 2015   Paul
no comments