Our Facilities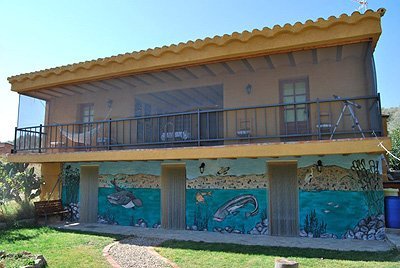 Comprising of 3 rooms located under the main house all of which have en-suite shower rooms. Rooms can be made into single, twin or double. These open out onto the gardens where we produce our own fruit and vegetables. There is a kitchenette for your use with tea and coffee facilities, fridge regularly topped up with cold drinks and snacks and a washing machine should you need it.
There is also a gazebo where you can take a break from the fishing and have a cold beer and why not finish the day off with a BBQ and relax and enjoy the beautiful evenings.
To start the day we serve breakfast on the balcony of the main house. Here you can look out on to the riverside nature reserve whilst enjoying a full English, cereals or a continental breakfast. If you decide to fish through the night we will cook breakfast bank side or bring it to you ensuring you don't miss out on any action.
About the Fishing
For those of you who have dreamt but never fished this fabulous river it really is an amazing experience. Here at On The Ebro we cater for all levels of angler. If it is just the huge cats you wish to fish for no problem. Simple hair rigged halibut pellets for Cats has proved very productive with the town stretch in Flix producing fish to over 170lbs and the 24hr stretch recording it's first fish over 200lb in 2013. Be prepared to feed heavily as the cats can eat a huge amount of pellets. For those of you who want a go at the very biggest cats then we offer the chance to fish up at Mequinenza on the River Segre, here fish too over 240lbs are present.
Above the dam here in Flix you are allowed to fish 24hrs giving you the opportunity to really make to most of your stay.
The Ebro's carp are famous for their fighting abilities being wild river carp they give you a real scrap whatever their size. We fish for them using normal but stepped up UK tactics, Boilies, Maize and Pellets  all working well with the carp here in Flix topping well over the magic 40lb mark. We offer the chance to fish Riba Roja just 10 minutes upstream where carp of over 60lb are present.
Your licence allows you to fish 2 rods so if you want you can target both the cats and carp making the most of your stay.
Also there is the opportunity of fishing from the boat. Fully guided trips are available for both cat and carp fishing.
Bait & Tackle
On site we have a small tackle shop which stocks all you will need for your stay.
We have a good selection of  Korda end tackle where if you do not wish to bring your own or run out of anything it is here for purchase.
Also available is a good selection of end tackle for the catfishing, including hooks swivels and hook link meterials designed to cope with the Ebro's cats.
To help tame the huge catfish we use 6lb test Shimano/Daiwa rods matched with shimano 12000D reels. These are filled with 100lb bs braid. For the carp we use 3.5 test Chub Outkast Plus's, these are matched with 8000D shimano reels spooled with 50lb bs braid.
Pods, alarms, nets and scales are all provided, also bedchairs and oval shelters for those of you who want to do an over nighter or two.  For baiting up we have large baiting spoons, spod/ spomb rods and also a inflatable dingy complete with 54lb thrust electric motor and fish finder.
Bait is always available, we stock a good selection of boilies both frozen or shelf life and sacks of Halibut pellets for the catfishing. Also available are maize, hemp and mixed particles which can be freshly prepared for you.